If it were arguably anyone else, the poker world would be utterly amazed. Since it is 15-time World Series of Poker bracelet winner and Poker Hall of Famer Phil Hellmuth, however, people seem to continue to gloss over his heads-up dominance. Hellmuth continued to demonstrate his skill in that particular discipline on Wednesday, defeating FS1 sports host and amateur poker player Nick Wright in a new installment of High Stakes Duel III on PokerGO.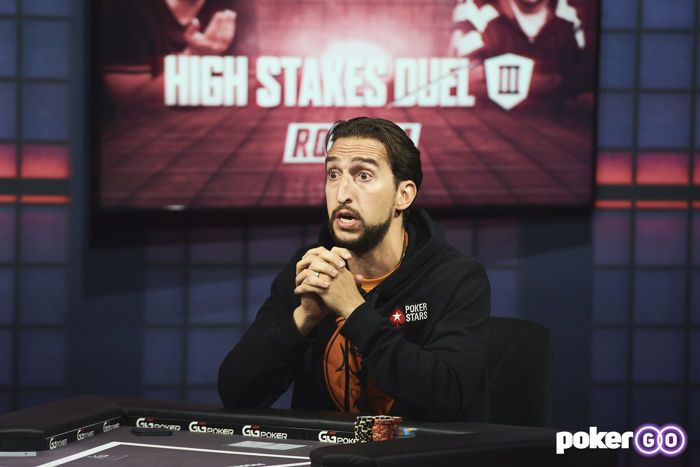 While many might have thought that Wright would be an easy pushover for Hellmuth, the exact opposite proved to be the case.

With each man in for $50,000, Wright took the battle to Hellmuth in the early going. Wright completely had the former World Champion on his heels as he moved out to a 2:1 chip lead at one point. The co-host of First Things First on FS1, Wright seemed to have the entire match in his hands and seemed ready to do something that nobody in this format has been able to do.


Wright used an unorthodox approach to the match to seize that early lead, one that even Hellmuth stated had him mystified. "He had me dazed and confused and frustrated," Hellmuth admitted after the battle. "When I watch the video next time, I'm going to see what he's doing. I suspect that I'm going to end up bluffing a lot more the next time, but I have to see what he looks like."
After Wright surged out to his lead in the first couple of hours, Hellmuth would use the next three and a half hours to slowly grind his way back into the match. In what has become his expected style – fall behind early, rally late – Hellmuth was able to draw back to even against Wright before eking his way into the lead. The final hand turned out to be a stunner for everyone involved.
On Hand 281 of the battle, both players would limp into a pot and catch a four-flush on the flop. The problem was that Hellmuth had Wright outpipped, his eight high flush eclipsing Wright's seven high flush. The flush came for both men on the turn, but they would slyly play their hands with a check before seeing a blank hit on the river. Hellmuth trapped his opposition with a smallish half-pot bet and Wright took the bait, firing his chips to the center with an all-in move. Hellmuth paused for just a second before making the call and turning his winning eight-high flush up to a resounding "NO!" from Wright.
Seven in a Row for Hellmuth
It's getting to a point where some credence has to be given to Hellmuth for his heads-up skills, particularly in the High Stakes Duel format.

Hellmuth's first victim last year was Antonio Esfandiari, who lost three consecutive matches to Hellmuth in the inaugural High Stakes Duel to drop $350,000. Earlier this year, Daniel Negreanu was the one who stepped up to take on Hellmuth and he didn't fare any better than Esfandiari, losing another three matches and another $350,000 to Hellmuth. Along with the $50,000 that Hellmuth just picked up from Wright, the "Poker Brat" has taken down an astounding $750,000 in just this style of event alone.
Nick Wright Declines HighStakesDuel Rematch vs Phil Hellmuth
Fox Sports host Nick Wright has revealed yesterday that he WON'T be re-challenging Phil Hellmuth in High Stakes Duel III, claiming that although he thinks he can win, he "can't justify to my wonderful wife and kids laying out another $100,000."

That's what it would cost the 36-year-old tv and radio personality to take his seat for a rematch with the Poker Brat, their first battle last week seeing a brutal flush-over-flush dashing Wright's hopes of being the first man to defeat Phil in the format.

Wright took to twitter to reveal his decision and the thinking behind it, revealing: "To be totally candid, I'm still not really over the loss – not because I got unlucky or anything, Phil deserved to win – but because I feel like I blew it with some really poor play in the middle…

He added: "I don't know if it was fatigue, lack of experience or whatever, but I had a plan, I was executing it, I strayed from it, and I almost recovered and thought I had recovered in that final flush-over-flush hand, but…such is life."


Great match @getnickwright! I'll see you at the televised tables again soon, on Poker After Dark, only on the @PokerGo App. I enjoyed our dinner after the match (at Carbone @AriaLV), and enjoyed meeting your wife: she is awesome… https://t.co/e7HHidtG0u

— phil_hellmuth (@phil_hellmuth) July 31, 2021