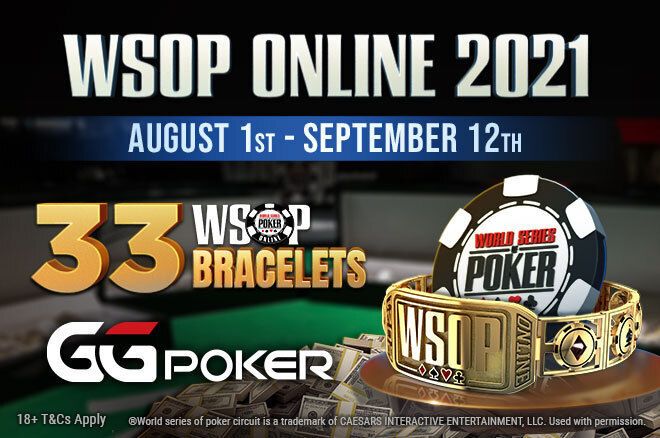 Thirty-three gold WSOP bracelets are waiting to be won between August 1 and September 12, and there are some amazing-looking events that we cannot wait to shuffle up and deal.
The full schedule for the 2021 World Series of Poker Online international-facing series was announced in a press release on July 20, 2021. There will be 33 gold bracelets awarded from Aug. 1 through Sept. 12 on GGNetwork (Betkings, GGpoker, Natural8, 2bet4win), with tens of millions of dollars in guaranteed prize pools to be paid out along the way.

The centerpiece of the whole affair will be the $5,000 buy-in 'Main Event Online Championship, which will have a massive $20,000,000 guarantee. The 2020 running of the online main event set the record for the largest prize pool in online poker history, with 5,802 entries creating a final total of $27,559,500 that was paid out among the top 728 finishers. Stoyan Madanzhiev earned $3,904,686 and a championship gold bracelet for the win.

"After making history last year, WSOP Online opens up to the international poker community again this August and September," said six-time bracelet winner and GGPoker ambassador Daniel Negreanu. "I'm ready to join tens of thousands of poker players from all over the world at the tables, all of us aiming to take down one of those 33 gold bracelets!"


⚠️ #WSOP 2021 STARTS HERE ⚠️

Full schedule 👉 https://t.co/fuWGCjGXbG

First week highlights 👇 (sound up!)#WSOPOnline #GGPoker @WSOP pic.twitter.com/pykftrWThk

— GGPoker (@GGPoker) July 20, 2021
The series kicks off with a $50 buy-in event that features a $1,000,000 guarantee
. Other highlights from the schedule include a
$1,111 buy-in COVID-19 relief charity event (Aug. 1)
,
the 'Millionaire Maker' $1,500 buy-in event with a $5 million guarantee and at least $1 million for the champion, a $5 million guaranteed high roller championship $25,000 buy-in event and an online version of the $10,000 buy-in no-limit hold'em championship.
According to information provided alongside the schedule release, there will be broadcast coverage of both the heads-up championship and the main event online championship featuring Norman Chad and Lon McEachern.
The full schedule of bracelet events can be found below:
| Event | Start Date | No. of Days | Buy-In (USD) |
| --- | --- | --- | --- |
| $1,111 Caesars Cares Charity Event | 8/1/2021 | 2 | $1,111 |
| $50 No-Limit Hold'em $1 Million GTD | 8/1/2021 | 1 | $50 |
| $2,500 Limit Hold'em | 8/3/2021 | 2 | $2,500 |
| $800 No-Limit Hold'em Double Chance | 8/5/2021 | 2 | $800 |
| $315 No-Limit Hold'em Deepstack Bounty | 8/7/2021 | 2 | $315 |
| $200 No-Limit Hold'em Flip & Go $1 Million GTD | 8/8/2021 | 1 | $200 |
| $1,500 No-Limit Hold'em Millionaire Maker $5 Million GTD | 8/8/2021 | 1 | $1,500 |
| $5,000 No-Limit Hold'em Six Max | 8/10/2021 | 2 | $5,000 |
| $525 No-Limit Hold'em Superstack Turbo Bounty | 8/12/2021 | 1 | $525 |
| $400 Pot-Limit Omaha Double Chance | 8/14/2021 | 2 | $400 |
| $10,000 No-Limit Hold'em $5 Million GTD | 8/15/2021 | 2 | $10,000 |
| $1,000 No-Limit Hold'em Double Stack $4 Million GTD | 8/15/2021 | 1 | $1,000 |
| $5,000 Pot-Limit Omaha | 8/17/2021 | 2 | $5,000 |
| $500 No-Limit Hold'em | 8/19/2021 | 2 | $500 |
| $10,000 No-Limit Hold'em Heads Up (128 max) | 8/21/2021 | 1 | $10,000 |
| $1,050 No-Limit Hold'em Freezeout $2 Million GTD | 8/22/2021 | 2 | $1,050 |
| $400 Plossus Bounty $1 Million GTD | 8/22/2021 | 1 | $400 |
| $5,000 No-Limit Hold'em Short Deck | 8/24/2021 | 2 | $5,000 |
| $840 No-Limit Hold'em Bounty Six Max | 8/26/2021 | 2 | $840 |
| $1,500 No-Limit Hold'em Monster Stack Feeezeout | 8/28/2021 | 2 | $1,500 |
| $25,000 No-Limit Hold'em $5 Million GTD | 8/29/2021 | 2 | $25,000 |
| $400 Colossus $3 Million GTD | 8/29/2021 | 1 | $400 |
| $600 No-Limit Hold'em Deepstack | 8/31/2021 | 2 | $600 |
| $1,050 Pot-Limit Omaha Bounty | 9/2/2021 | 2 | $1,050 |
| $777 No-Limit Hold'em Seven Max | 9/4/2021 | 2 | $777 |
| $888 No-Limit Hold'em Eight Max | 9/5/2021 | 2 | $888 |
| $5,000 Main Event Online Championship $20 Million GTD | 9/5/2021 | 1 | $5,000 |
| $2,100 No-Limit Hold'em Bounty | 9/7/2021 | 2 | $2,100 |
| $1,500 No-Limit Hold'em Fifty Stack | 9/9/2021 | 2 | $1,500 |
| $525 Beat the Pros Freezeout | 9/11/2021 | 2 | $525 |
| ¥815 No-Limit Hold'em ¥2,888,888 GTD | 9/12/2021 | 1 | $126 |
| $210 No-Limit Hold'em Bounty $2 Million GTD | 9/12/2021 | 1 | $210 |
| $500 No-Limit Hold'em $2,021,000 GTD | 9/12/2021 | 1 | $500 |
 
- 200% up to $1,000 Welcome Bonus
- or $100 FREE Tickets & Cash
- Fish Buffet up to 60% Cashback
- Contact us for VIP Deal
 
- 100% up to $600 Welcome Bonus
- or $100 FREE Tickets & Cash
- Fish Buffet up to 60% Cashback
- Exclusive $70,000 Rake Races
- Contact us for VIP Deal
 
 
- 200% up to $1,000 Welcome Bonus
- or $100 FREE Tickets & Cash
- Fish Buffet up to 60% Cashback
- Exclusive N8 Promos
- Exclusive $70,000 Rake Races
- Contact us for VIP Deal
 
- 100% up to $600 Welcome Bonus
- or $100 FREE Tickets & Cash
- Fish Buffet up to 60% Cashback
- Contact us for VIP Deal