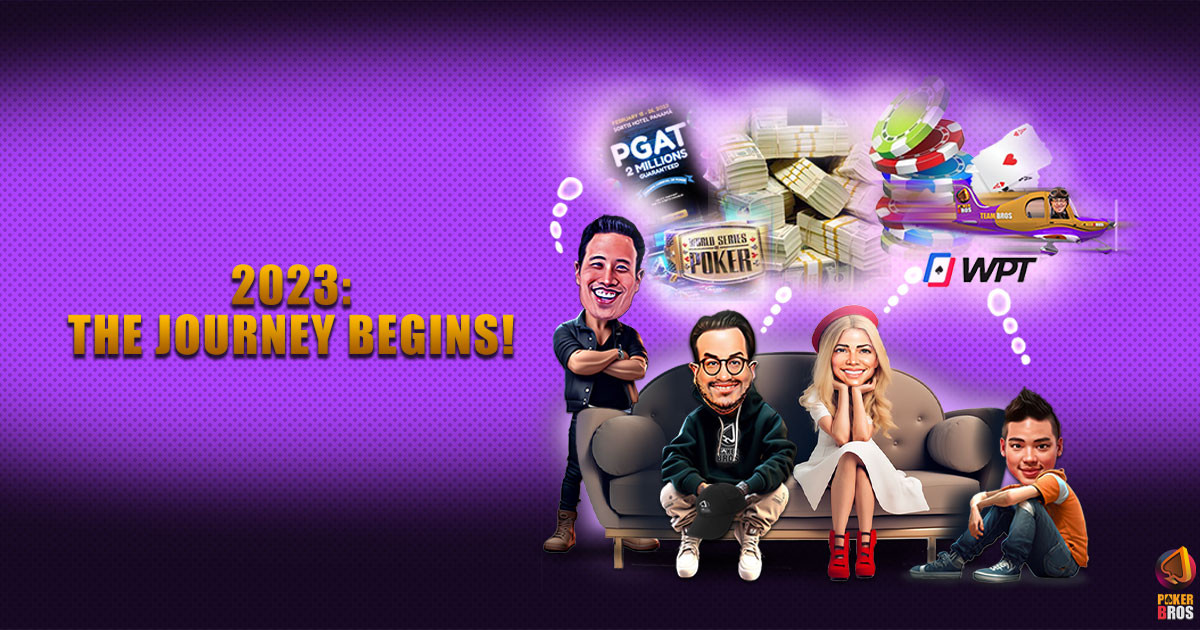 PokerBROS has quickly become one of the most popular sites to play poker for a lot of players all around the world. Their team is constantly bringing new updates and promotions to the site and in this article we show you what makes PokerBROS so popular these days.

Constant updates
PokerBros is one of those sites that really listens to feedback of their players and that's why they try to release an update for any minor software or security problem instantly upon finding it. That's why you can expect a weekly downtime of a few hours in the lowest traffic hours.

But with a little patience you will understand that the app just gets better and even safer with every update they bring.
High Variety of Games
Getting tired of playing Hold'em games every day? PokerBROS is the perfect place for you, as PLO5, PLO6 and some other games are lately even more popular then Hold'em on their app. Cash games allow you to buy-in for as much as 200bb, so you have a ton of playability with your deep stack.

The games you have access to will depend upon the club you join. Based upon the size of the group and the types of games members wish to play, you may encounter a broad range of tables or just a few.
That said, the possible game variants supported by PokerBROS is impressive and include:

No Limit Texas Hold'em
6+ Holdem/Shortdeck poker
Pot Limit Omaha
Pot Limit Omaha Hi/Lo
5 Card Pot Limit Omaha
6 Card Pot Limit Omaha
Open Face Chinese
Open Face Chinese Progressive
Open Face Chinese Joker
Open Face Chinese Ultimate
MTTs

The tournaments at PokerBROS come in two varieties: some are open to all PokerBROS members, no matter in which club you are playing, and the second type are the ones that are restricted to players in particular clubs. The tournaments that anyone can join usually come with high guaranteed amounts and many players, often there are more than 1,000.
 
Buyins range from just a few chips all the way to high-roller events. In our opinion tournaments in PokerBROS are very soft and we really recommend you to try them out.
Accessible Anywhere
PokerBROS functions as one of several mobile poker apps available for Apple iOS and Android devices. Downloading the PokerBROS app opens up access to thousands of online poker clubs, each operated individually around the world.
 
Virtually anybody can start their own poker club, or join an existing club at PokerBROS on their phone or tablet from anywhere in the world.
Fully Automated Anti-Cheat System
The Game Integrity Bros have proudly unveiled what they call the Live Alert Engine. It is the most recent digital construction from the security department that promises to deliver games with flawless integrity.
The program is a rules-based framework that scans real-time data from each table and processes it through a series of algorithms. Player behavior is heavily scrutinized and checked against a list of predetermined conditions, in the search for anything suspicious.
 
This isn't just a one off, too, because users have been promised that a constant stream of updates will be forthcoming in order to maintain the high ground in the "ever-changing arms race" against shady behavior.
 
"We get instant notification into our lively alerts dashboard with highly detailed information about the event and involved players. Based on the nature of the alert and its priority and urgency, it is either instantly picked up by a team member for full review, or if not urgent it is left pending to be picked up later in accordance with our daily workflow and internal procedures."
Always looking to expand their ambassador team
Recently their ambassador team expanded to 'quads' as Zarina Kasotty became their fourth member. The team is traveling around the world promoting their wonderful poker app, and sometimes they also giveaway free merchandise! Make sure you stay tuned on where you can catch them to say a word or two.
 
Not long ago our team had a chance to meet one of their promoters at the Curaçao Cash Game Festival.
Conclusion
PokerBROS is certainly very interesting new school poker room, it has a lot of advantages, very soft poker games and because of that it shows to player's high chance of winning money. Software is very attractive and you can play from every country on earth since it is originally a play money app.

We recommend you playing in PokerBROS with some things in mind. We recommend you not to have your whole chip stack on PokerBROS to feel safe, there are calculated risks when playing at PokerBROS. If you are a beginner and are not aware of all small risks, we would recommend you to rather play on the sites of our biggest partners – Betkings and Partypoker, there you can make direct deposits and cashouts plus a huge number of different poker games.
Frequently Asked Questions
We have added below some of most frequently asked questions by players wanting to try the games in PokerBROS. If you have any additional questions, please contact our support which will assist you with everything needed.
How to start playing?
Contact us via one of the following options and you will be playing within minutes. Support team is at your disposal and will be happy to help you!
---
Which app would you recommend me more, PPPoker, Upoker or PokerBROS?
Every app is different, PPPoker is the oldest and most renowned app between all three, that's why we can say that PPPoker is the best, but consider trying playing also PokerBROS and Upoker. If you would not enjoy playing in one app, contact us to get your best offer in the other two apps.
Can I play PokerBROS on my computer or only on mobile device?
You can play PokerBROS on your mobile device and on your computer. On mobile device just go to Google Play Store or Apple store and download the app from there. If you want to play from your computer, you need to first download emulator, a program which enables apps to work on desktop. LDplayer emulator instructions for download: https://www.ldplayer.net/games/pokerbros-on-pc.html
Which are the softest poker clubs in PokerBROS?
Contact our support to get more information on which are the best accessible clubs at the moment. After seeing club list, you decide where you would like to join, open your PokerBros account and start playing in minutes.
Is it safe to play on PokerBROS?
We offer only clubs of highest integrity, they put a lot of effort into finding any strange behaviour at the tables. If you feel there is any collusion at one of your tables, please contact us with as much information as possible and we will forward it to the club.
What games can I play on PokerBROS?
There is a big variety of different games and types of tables available. You can play No Limit Texas Hold'em, 6+ Holdem/Shortdeck poker, Pot Limit Omaha, Pot Limit Omaha Hi/Lo, 5 Card Pot Limit Omaha, 6 Card Pot Limit Omaha, Open Face Chinese, Open Face Chinese Progressive, Open Face Chinese Joker, Open Face Chinese Ultimate. Most of the tables are NL Holdem and PLO4 and PLO with 5 cards.
PokerBROS is not a sponsor of - or involved in any way with this promotional activity. We are not affiliated with, and do not endorse PokerBROS or any other poker app. PokerBROS is an online social gaming platform and does not provide any real money services.