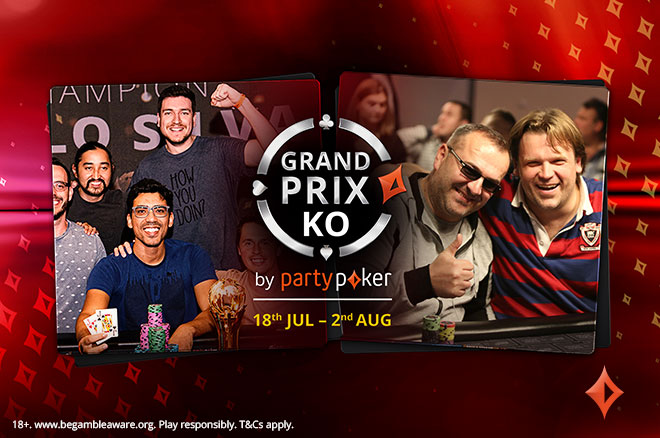 Hold onto your hats because there is an exciting online poker tournament festival coming to partypoker that has something for everyone. The Grand Prix Knockout runs from July 18 through August 2, features 16 progressive knockout events with combined guarantees of $2.2 million.

Everyone loves a PKO tournament because the bounty element of the prize pool creates a special dynamic. Players can win big cash prizes without reaching the money places. Bust an opponent, win some money; PKOs are superb value and fun.

The Grand Prix Knockout features 16 awesome PKO tournaments with buy-ins ranging from $5.50 up to $530, and with several different formats including six-max, seven-max, turbos, and hyper-turbos. There is a Grand Prix Knockout event for everyone.

Furthermore, the schedule has been put together with every partypoker player in mind, regardless of what they play. Check out the Grand Prix Knockout schedule in the partypoker lobby and you will see there are several different start times, which makes the festival's events accessible to all.
Kicking Off With $870,000 of Guaranteed Prize Pools
Grand Prix Knockout kicks off on July 18 with the first five events. The multi-day $5.50 Mini 6-Max, $55 6-Max, and $530 6-Max High Roller start the ball rolling. These events come with guaranteed prize pools of $50,000, $250,000, and a whopping $500,000 respectively.

A one-day $22 buy-in $20,000 guaranteed Mini 7-Max Turbo, and a $220 buy-in $50,000 guaranteed 7-Max Turbo round off the opening events.

Two Grand Prix Knockout Main Events shuffle up and deal on July 25, and they are crammed full of value. The Mini Main Event only costs $11 to enter but features a $100,000 guaranteed prize pool. It's bigger brother, the $109 Main Event will pay out no less than $500,000!

Of course, there are dozens of satellites feeding into the Grand Prix Knockout events. Those satellites start as low as a single cent. We have had plenty of satellite success stories over the past few months, here is hoping you are the next partypoker player to turn a small investment into a hefty sum.
Grand Prix KO Schedule
| Date From | Date To | Event | Buy-in | Guarantee |
| --- | --- | --- | --- | --- |
| Sun 18 Jul | Mon 26 Jul | #01 Mini 6-Max | $5.50 | $50,000 |
| Sun 18 Jul | Mon 26 Jul | #02 6-Max | $55 | $250,000 |
| Sun 18 Jul | Mon 26 Jul | #03 6-Max High Roller | $530 | $500,000 |
| Sun 18 Jul | Sun 18 Jul | #04 7-Max Turbo | $215 | $50,000 |
| Sun 18 Jul | Sun 18 Jul | #05 Mini 7-Max Turbo | $22 | $20,000 |
| Sun 25 Jul | Mon 02 Aug | #06 Mini Main Event | $11 | $100,000 |
| Sun 25 Jul | Mon 02 Aug | #07 Main Event | $109 | $500,000 |
| Sun 25 Jul | Sun 25 Jul | #08 7-Max Turbo | $215 | $50,000 |
| Sun 25 Jul | Sun 25 Jul | #09 Mini 7-Max Turbo | $22 | $20,000 |
| Mon 26 Jul | Mon 02 Aug | #10 High Roller | $530 | $500,000 |
| Mon 26 Jul | Mon 02 Aug | #11 Hyper | $320 | $30,000 |
| Mon 26 Jul | Mon 26 Jul | #12 Mini Hyper | $33 | $15,000 |
| Sun 01 Aug | Sun 01 Aug | #13 6-Max Turbo | $215 | $50,000 |
| Sun 01 Aug | Sun 01 Aug | #14 Mini 6-Max Turbo | $22 | $20,000 |
| Mon 02 Aug | Mon 02 Aug | #15 Hyper Finale | $320 | $30,000 |
| Mon 02 Aug | Mon 02 Aug | #16 Mini Hyper Finale | $33 | $15,000 |
- $30 FREE Tickets Welcome Bonus- Up to 60% Cashback- PokerPro Rake Chase up to $2,000 monthly- $200&$250 PokerPro Freeroll- Exclusive Reload Bonus